Well the news cycle post-Gamescom didn't lull for too long...As of today we now know of multiple alt-deco Skylanders AND vehicles to add to the wish list! As you might have guessed, several of these are store exclusives and they confirm the return of familiar concepts like Legendary, Nitro, and holiday specials.
Skylanders SuperChargers Alt-Deco and Wave 1 Pre-Order News
Let's take a look at the figures and their known retail outlets:
Legendary Hurricane Jet-Vac
Exclusive to: Toys'R'Us
Estimated Ship Date: Launch Day 9/20/2015
Price: $13.99 (Should be $12.99, but it is TRU so they do the +$1)
Pre-Order
Click Here for Legendary Hurricane Jet-Vac Pre-Order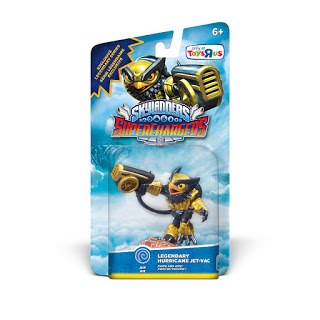 Nitro Stealth Stinger
Exclusive to: Target
Estimated Ship Date: Launch Day 9/20/2015
Price: $14.99
Pre-Order Link:
Click Here for Nitro Stealth Stinger Pre-Order
Steel Plated Smash Hit
Exclusive to: Best Buy
Estimated Ship Date: Launch Day 9/20/2015
Price: $12.99
Frightful Fiesta
Exclusive to: EBGames in Canada (GameStop in the US, or a common release as we usually see with holiday variants...Regardless he is definitely at GameStop)
Estimated Ship Date: Launch Day 9/20/2015
Price: $12.99 US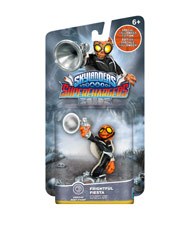 So, there you go...we are just a bit shy of 1 month until the release date and we have 4 alt-decos up for grabs. It is interesting you can pre-order all of them, but my experience with launch day in the past has been that everything is well stocked. That could change, they could have low production on some of these guys, but for the most part pre-ordering now is not near as big of a deal as it is for "holiday" time and afterwards. If you miss out on the initial run, the shelves should be restocked for the prime holiday shopping. I prefer to hold out to avoid freight and to likely cash in on some sales!
Personally, I am the most excited for Frightful Fiesta! He looks amazing, although I'm slightly disappointed that there is no matching Crypt Crusher (at least not yet). Note that the bases also get a nice custom paint this time around.
The "Steel Plated" version of Smash Hit is interesting and you have to wonder if this is a one-off for their store exclusive, or if we might see "Steel Plated" become a regular staple like Legendary, Dark, and Nitro.
I've never been a big fan of the "gold and white" color scheme for the Nitros, but it doesn't look too bad on the copter, although I am 99% sure I'll prefer the standard scheme.
I remain a big fan of the Legendary Skylanders and despite being a HUGE Jet-Vac fan, I am a bit disappointed to see him get Legendary form #2 while other characters could have taken their first dive into the exclusive club. I personally had hoped for a Legendary Shark Shooter Terrafin, but I digress. How do you feel about it? Leave a comment here, on the video, or on the Skylander Club Forum.
Lastly, it is worth noting that multiple sites are adding Wave 1 characters and vehicles to the pre-order list. Many have claimed a HUGE listing for Wave 1...those claims and assumptions are not matching up with what we see across retail sites like Amazon, Best Buy, and GameStop.
* * *
For those interested, here is a quick rundown of what we have seen:
SuperChargers
-Stormblade
-Shark Shooter Terrafin
-Fiesta
-Dive-Clops
Vehicles
-Sky Slicer
-Crypt Crusher
-Sea Shadow
-Dive Bomber
Racing Action Packs
-Sea: Deep Dive Gill Grunt, Reef Ripper, Golden Queen Trophy
Dual Packs
-Two Have Been Listed
--They are believed to be a Terrafin Pack and a Jet-Vac Pack (Skylander + Vehicle)
There is also, of course, the Starter Pack contents and the alt-decos listed above.
* * *
What are your thoughts? Are you excited about the alt-decos? Which one do you like the best? Will you be buying just the alternate, both the alternate and the standard, or just the one you prefer the best on a case-by-case basis?