I have gotten reports and solid confirmation that the much anticipated Scarlet Ninjini will finally be making her debut at Target on Sunday, May 19th, 2013.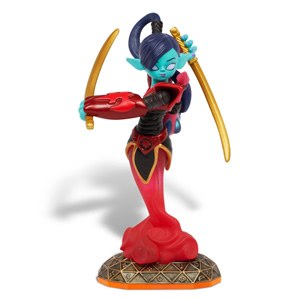 This follows suit with Jade Flaswhing and the earlier released Granite Crusher, but Scarlet will not be exclusive to Target. In fact, my local GameStops (and those near the distribution center) had her on the shelves Thursday-Friday, May 9th-10th).
I again have to stress that the Target Exclusives can be hard to locate and find stocked at many stores and in many regions. As I've said before, I saw Granite Crusher at my local store on release day and never again...Jade was only seen twice at my local Target. I realize some folks have store that handle more inventory etc, but for everyone else (or those with scalpers) they are much harder to come by than say your in-game variant from Walmart or Legendaries at Toys'R'Us.
Bottom line, if you want her...I'd act fast. She should be available at multiple outlets, but the dates are uncertain for Walmart, Amazon, etc...Given how the last few exclusives and in-game variants have been I would treat her as if she was a store exclusive and move fast. If Target is your planned means of landing the magic ninja genie, I would go as early as possible. Granite, Jade, Molten Hot Dog, etc have all been relatively tough to land. They do get re-stocked eventually, but there are still plenty of people who have yet to land Granite that have been trying since launch!
I also hope you had enough faith in me to not go out on a limb and buy her from Amazon Germany...If that was the only option, I might have done it...No point paying extra freight and having to wait all that time (I know a few that ordered her and have STILL yet to get her in hand).
I will keep you posted on any other news breaks regarding Scarlet or the other yet to be released Skylanders. Similarly, if a link goes up online I'll post it...That is your safest bet to avoid a potential disappointment at your local store...
Stay tuned and happy hunting!