Skylanders Trap Team Tablet Starter Pack
Information, Gameplay, and My Thoughts
Skylanders® is redefining the Toys-to-LifeTM phenomenon with yet another ground-breaking innovation, Skylanders Trap TeamTM. With Skylanders Trap Team, players can take characters out of the game and place them into physical "Traps" that kids can take with them, effectively bringing Life to Toys.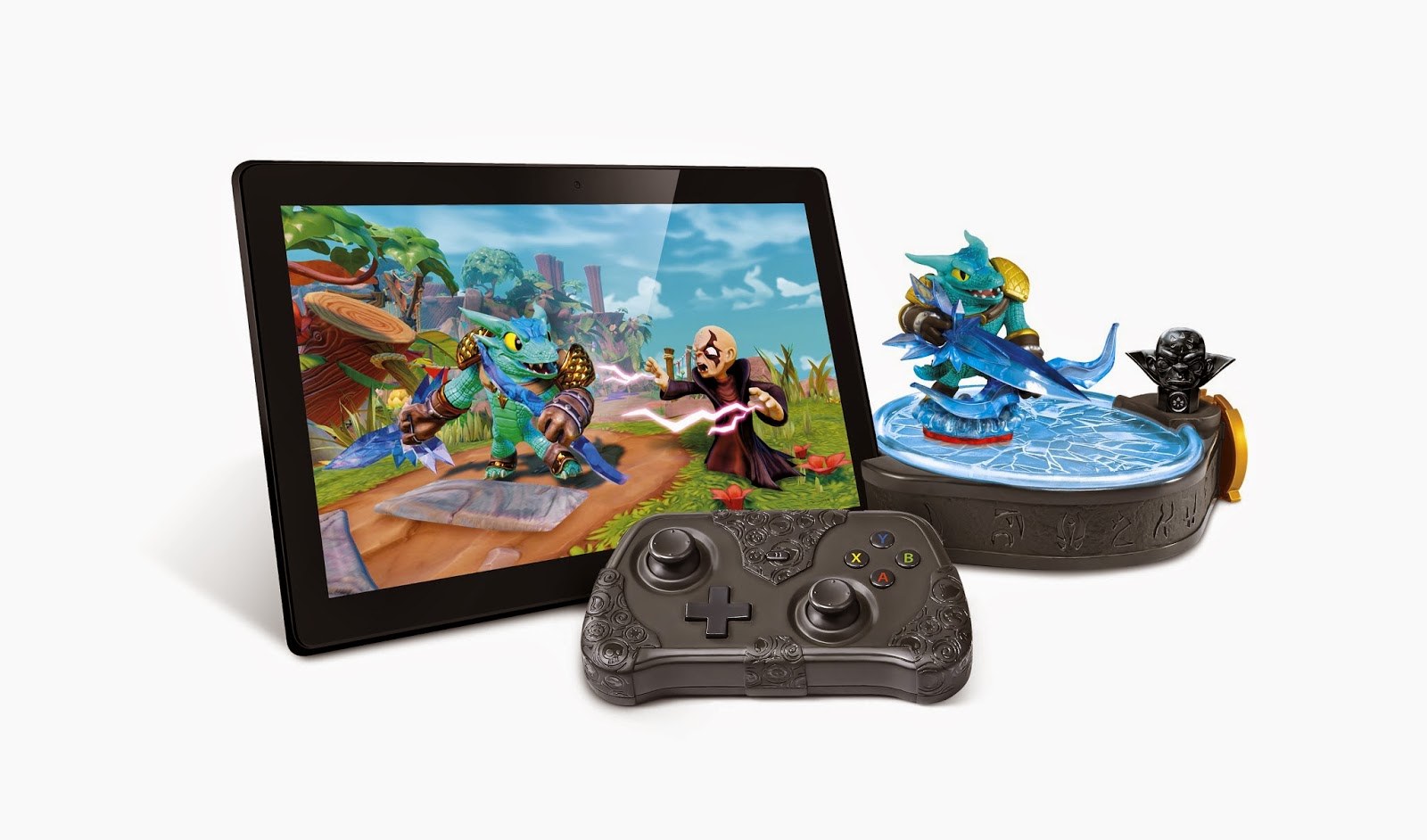 Now, for the first time in franchise history, Activision Publishing, Inc. is bringing the full AAA console experience of a Skylanders game to iPad®, Kindle Fire and Android tablets with the Skylanders Trap Team Tablet Starter Pack. Launching day-and-date with the console version, the Skylanders Trap Team Tablet Starter Pack will include a Bluetooth© Traptanium PortalTM, a new ring of magical energy which reverses the magic of the Toys-to-Life category by letting players bring digital characters into the physical world. The new portal gives players the freedom to dock their tablet, providing a hands-free gaming experience. The Skylanders Trap Team Tablet Starter Pack will also include a Bluetooth® controller for the best possible play experience; a built-in tablet stand; two Skylanders characters; two Traps; and a display tray that lets Portal Masters keep track of the Traps they've collected and which villains they have trapped.
Like the console version of the game, all 175 existing Skylanders toys will be forward compatible and playable across all platforms, truly allowing Portal Masters to play wherever and whenever they want. Delivering another meaningful technological leap to the Skylanders franchise, the launch of Skylanders Trap Team on tablet underscores Activision's continued commitment to bringing significant innovation to the Toys-to-Life category that the company firmly established in 2011.
The game introduces more than 50 new playable Skylanders heroes and more than 40 villains in an all-new adventure, delivering a diverse and dynamic story-driven gameplay experience filled with adventure, combat, puzzles, mini games, activities and platforming, all set within a variety of lush, compelling environments.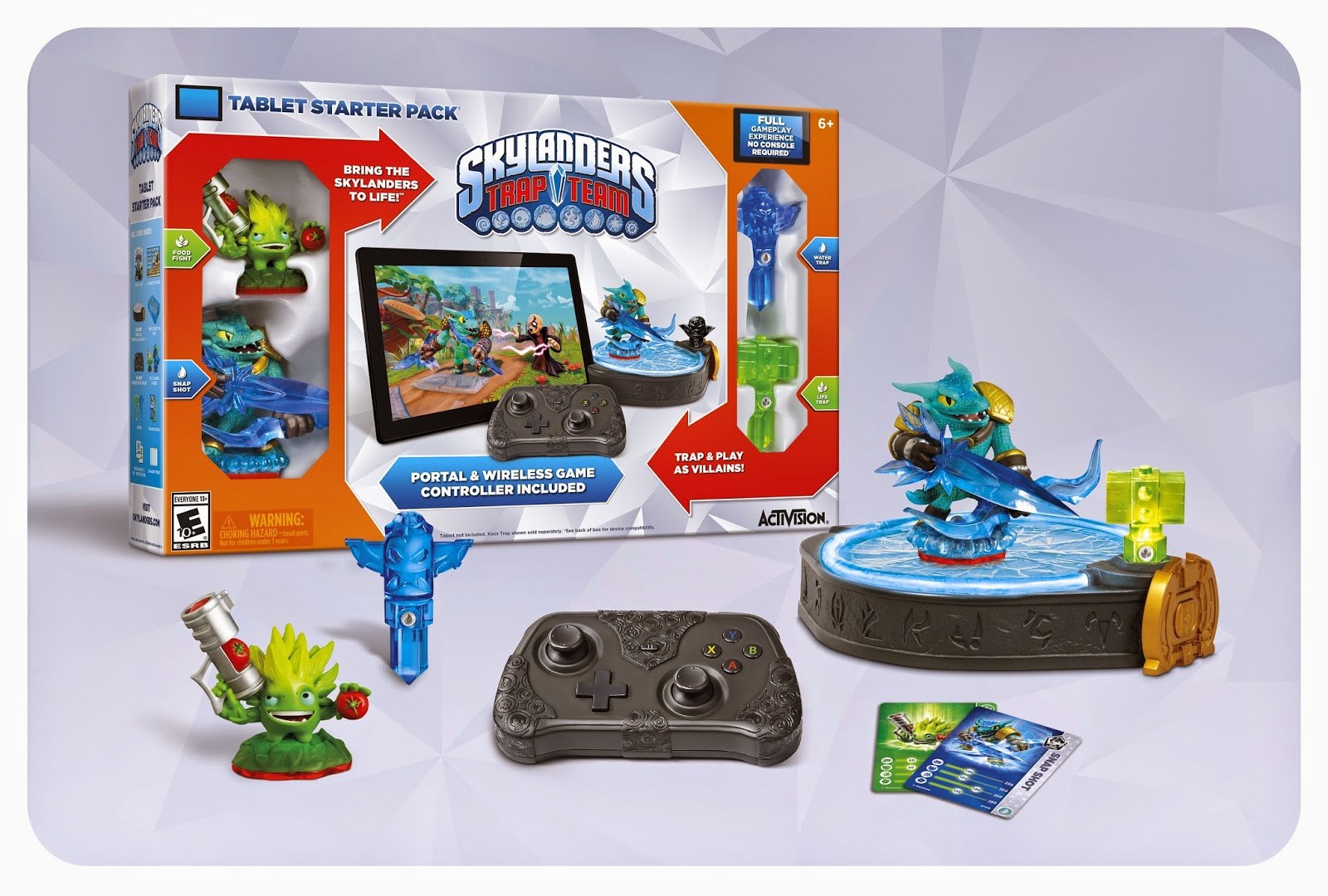 KEY FEATURES:
Unprecedented Tablet Innovation – Skylanders Trap Team on tablet represents a huge technological leap for the Toys-to-Life category as one of the first AAA experiences of its kind on the platform. The team is delivering a feat of development innovation with a game that was built alongside the console versions, driving an unparalleled level of performance from the tablet devices that it supports.
Complete Toys-to-Life, Life to Toys Tablet Experience – The Skylanders Trap Team Tablet Starter Pack gives fans everything they need for a rich gameplay experience wherever and whenever they want to play. Tablet players will experience the Skylanders Trap Team innovation through a Bluetooth Traptanium Portal and Bluetooth controller. They can also play the full game on their tablets using touch controls and two digital Skylanders characters and two digital Traps.
Two Ways to Play – Once players purchase the tablet Starter Pack and download the game via their tablet's app store, the game will recognize the Bluetooth Traptanium Portal and unlock the full experience. Players will experience the same AAA content they come to expect from Skylanders console games, but with two ways to play:
"Controller" – Fans can play the game just like the console version using the Bluetooth Traptanium Portal and toys with the custom Bluetooth Skylanders game controller included in the Starter Pack.
"Touch Controls" – For players who prefer to use touch controls instead of a controller, fans have the option to play the game just using on-screen touch controls.
Innovative Gameplay – In Skylanders Trap Team, you can play as a Skylander or capture Skylands' most wanted foes and unleash them for good. It's up to Portal Masters to find these villains and capture them inside the new Traps that transport the villains into the real world via the Traptanium Portal. Once trapped, players can return the villain to Skylands as a playable character. This exciting new play pattern gives fans the option to switch between playing as a Skylander hero or a villain at any time, creating fun and unique "tag team" gameplay.
Publisher:

Activision Publishing, Inc.
Developers:

Toys for Bob (Xbox 360, PlayStation 3, Wii)
Beenox (Xbox One, PlayStation 4, Wii U, 3DS)
Vicarious Visions (iPad, Kindle Fire, Android tablets)
Supported Devices: Apple iPad 3rd Gen, iPad 4th Gen, iPad Mini Retina, iPad Air
Kindle Fire HDX (7" & 8.9")
Samsung Galaxy Tab Pro (8.4", 10.1", 12.2")
Samsung Galaxy Tab S (8.4", 10.5")
Samsung Galaxy Note 10.1 (2014), Galaxy Note Pro 12.2