At long last we have official confirmation and some information on the Skylanders Trap Team Starter Pack for the Nintendo 3DS. As a Skylanders Fan and Nintendo 3DS proponent, this is (finally) our first detailed info on the installment! I will be making another post and stand alone video to further expand the on the information in this post...Stay tuned!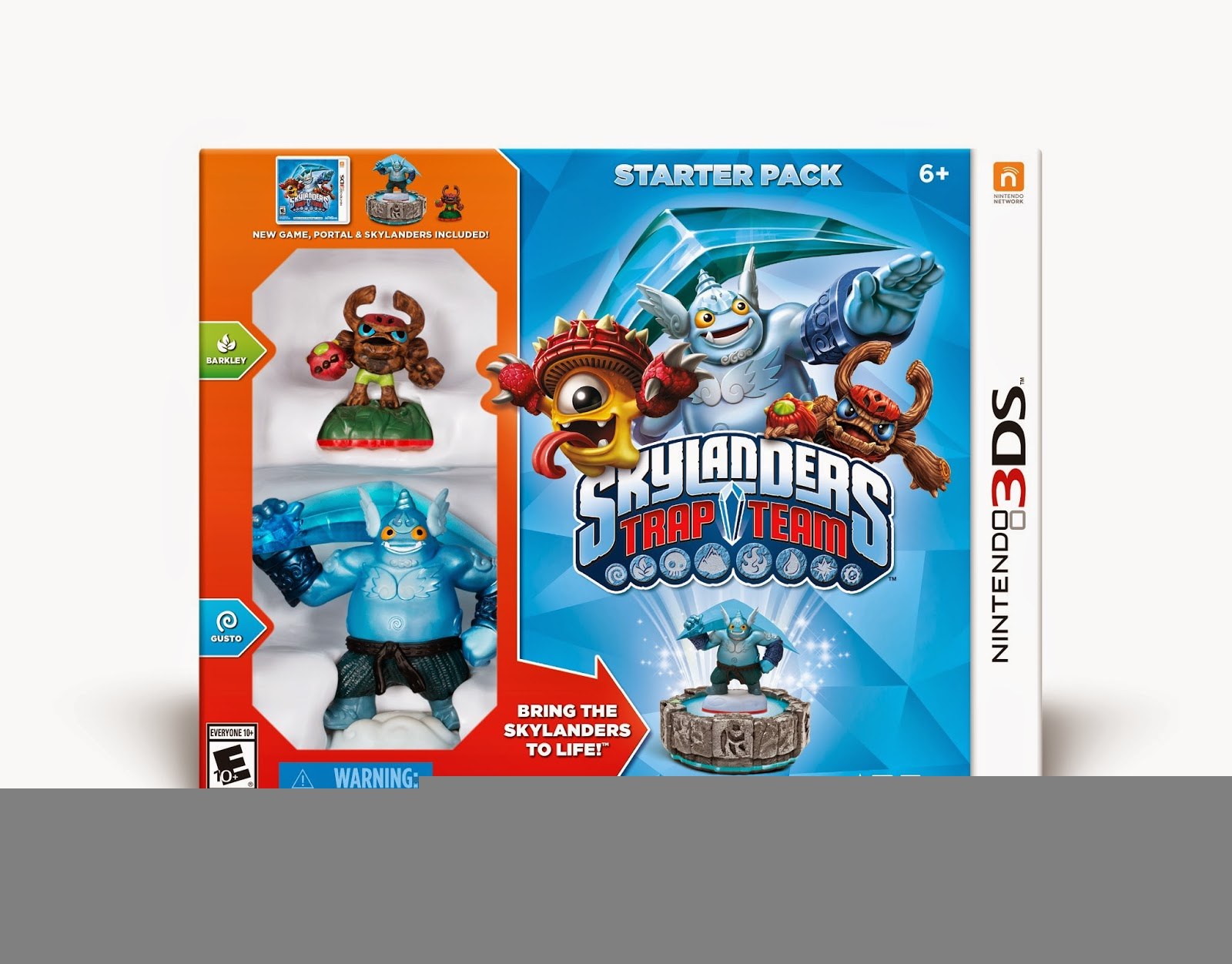 SANTA MONICA, Calif. - September 18, 2014 - Skylanders® fans can go on a villain vanquishing adventure this fall with Skylanders Trap Team for Nintendo 3DS as they take on the evil Dream Sheep and 13 other villains exclusive to the platform. Launching day and date on October 5 with the console and tablet versions of the game, Skylanders Trap Teamfor Nintendo 3DS features an all-new adventure with its own levels, locations and gameplay. The game also uses the special features of the system, which gives players the ability to experience unique interactions with the captured villains. Additionally, Skylanders Trap Team on Nintendo 3DS introduces a multiplayer version of the fan-favorite card game Skylanders Skystones that uses Wi-Fi connectivity, marking the first time Portal Masters can play the minigame with friends and family.
Skylanders Trap Team takes advantage of the interactive features of Nintendo 3DS in fun ways. For instance, after villains are defeated in combat, players can use the bottom Touch Screen to pull them out of the game and trap them in the Traptanium Vault. Then, once captured, players can use the Touch Screen and microphone to poke, tickle and spin villains to make them dizzy.
Using the Portal of Power® included in the Skylanders Trap Team Nintendo 3DS Starter Pack, players can load in their Skylanders characters directly into the system, allowing greater flexibility for playing on the go. Additionally, two powerful Skylanders characters will be available at launch only via the Nintendo 3DS Starter Pack -- Gusto, a Trap Master with an oversized TraptaniumTM Boomerang that delivers the ultimate blow to bad guys; and Barkley, the Mini version of Skylanders Giants'TM Tree Rex.
Throughout the game, Portal Masters can summon captured villains to unleash devastating attacks and fight side-by-side with their Skylander. They can also play as captured villains in 13 unique villain "bootcamps" created by the evil Dream Sheep, the master villain in the game.
The Nintendo 3DS version of SkylandersTrap Team also enables fans to play with all of the toys from Skylanders Spyro's Adventure®, Skylanders GiantsTM and Skylanders SWAP ForceTM, enabling true cross-platform play. All of the characters' abilities, levels and customization will carry forward into Skylanders Trap Team.
Skylanders Trap Team on Nintendo 3DS, developed by Beenox, will be available on October 5 in North America, October 2 in Australia and October 10 in Europe. The game is rated E10+ by the ESRB. For more information, visit: www.skylanders.com.