Here is a weekend update for you...
Wave 5 Pre-Order
Well, good news and bad news...
The bad news first...I still don't have Warnado, who I have eagerly been awaiting since October, Camo, or Wham-Shell. They are, however, becoming easier to find...just the last few days I've seen several folks finding 2-3 sets at their local Walmart or reporting that their GameStop has been getting them in regularly etc.
The good news is I have them on order! Having missed out on the GameStop unveiling for Camo and Warnado I was a bit disappointed (I missed their Wham-Shell earlier this week as well). When I found out that Walmart had the trio up I was miffed...mainly because I filled out their "email me when this items is in stock" form long, long ago. I'm not sure, but it could be the system just can't get e-mails out before the stock dissipates, or perhaps they knew it wasn't enough to justify a full listing etc. Still if you are someone who relies on "email me when this is in stock" you may want to be a bit more proactive...I'm pretty sure I did something similar with GameStop, but oh well.
The bad side of good aside, my order is coming from Amazon! I have never had an issue with Amazon damaging anything, I get to pay retail, and I get free shipping. This is a win-win-win. First off I'm not having to (although I'm sure I'll continue to look locally) hunt for Wave 5 like a possessed lunatic. Second, I am paying less than singles cost at TRU or GameStop. Lastly, free freight! GameStop ships quick, but that is another few bucks that could have been something else. Toys'R'Us has the nuttiest freight charges and their penchant for using "Sure Post" basically costs me 3 days of transit time with every order. Amazon will come free via UPS, not bent-up, and at $8.99 per Skylander!
The only downside here is they have yet to say when they will ship, but still, I can rest a little easier knowing that the final three will be on their way shortly. Special thanks to Jon, octaneblue, for the heads-up on the pre-order!
Here is a shot from Target...well stocked, just nothing "new" (ie Wave 4 or Wave 5):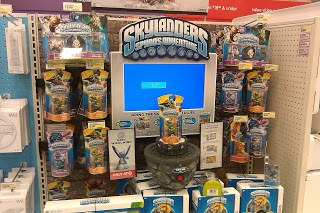 Recordings
Last night, well technically this morning, I recorded the time goals for Empire of Ice, Pirate Seas, Darklight Crypt, and Dragon's Peak. They are being edited and uploaded as we speak!
Progress
With the time goals done, I have 3-Stars on every chapter, except for Darklight Crypt. Apparently I am not doing something right on the Enemy Goal. I went thru it last night and literally decimated everything (made it a point to take out 5-6 of the Stump Demons around Occulous) and still came up empty...I'll work on that and getting Wrecking Ball up to Level 10 (he is at Level 8 and the only Skylander not currently at 10).
What I plan to do now is simply take the fleet thru Heroic Challenges. Obviously I am going to do my favorite Skylanders first. As of right now I feel like I've gotten the hard challenges taken care of (ie Boomer and Eruptor on Double Trouble etc). I am a little leary of doing the mass upgrades until I know if Warnado, Wham-Shell, or Camo will have a similar challenge to Double Trouble or Drobot etc.
I will work on that and should I get it wrapped up to my liking I'll record mass upgrades and pick paths etc.
I will record the unboxings, introductions, and Heroic Challenges of our final three Skylanders as soon as they come in...
Currently Playing
I am currently playing Wii Fit Plus, Gold's Gym Cardio Workout Skylanders: Spyro's Adventure (Wii), and Professor Layton and the Last Specter (DS).
I am really enjoying Professor Layton and the Last Specter and will likely pick up the previous installments in the series.
For whatever reason I've been playing Gold's Gym Cardio Workout about 2-3 times a week. I really enjoyed it when I picked it up, just haven't had much time to play after I was going at it daily. That said, I'm a big believer in working out and it helps me sleep better...so with that said, I've picked it back up...Aced an exam tonight and then took on a new lesson, with very nice results: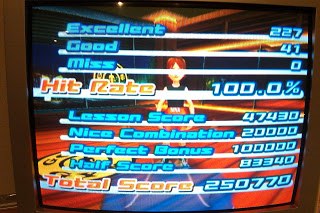 *If I wrap up upgrades on Skylanders I will start recording Mario Kart Wii.
Blog
A couple of big additions to the blog will be:
-My Favorite Skylanders
-My Selected Upgrade Paths
Earlier today I was able to get the "Fire Element Upgrade Path" poll results blogged and I also added Blog Poll #26 "Who is Your Favorite Skylander?" It is going to be a very nice poll in my opinion!