Opening and Review of Skylanders Giants Topps Collector Card Starter Set
(Bonus Pack Feature: Legendary Bouncer)
*Please note that the camera was still on "cloud" and thus made for the funky/vintage look.
What?
Topps Skylanders Giants Collector Card Starter Set, TRU Exclusive
Where Did You Get It?
Toys'R'Us
How Much Was It?
$8.99 plus tax
What is Included?
Album with Checklist, Bonus Pack with 4 Legenaries and 3 Glow-in-the-Dark Cards, and (2) Single Packs (6 cards per pack)
What was Stock Like?
Honestly, it looked untouched since I had bout the Jet-Vac Album last week.
Check out the
Review of the L-Jet-Vac Bonus Pack Starter Set
:
http://www.1ofwiisdom.blogspot.com/2012/12/review-of-tru-exclusive-topps.html
Break it Down
This is the same ol' song and dance as last time. Album with bonus pack and 2 single packs.
This time around I'll compare the two Bonus Packs as that is the real draw of the set.
There are (2) variations that I know of...Legendary Bounder and Legendary Jet-Vac. Here is how mine broke down:
Legendary Bouncer Bonus Pack
: L-Bouncer, L-Trigger Happy, L-Chop Chop, L-Slam Bam, GITD: Stealth Elf, Eruptor, and Gill Grunt
Legendary Jet-Vac Bonus Pack
: L-Jet-Vac, L-Ignitor, L-Spyro, L-Stealth Elf, GITD: Spyro, Stump Smash, and Trigger Happy.
Complete Bonus Pack Contents
Top Row=L-Jet-Vac, Bottom Row=L-Bouncer
Legendary and GITD Cards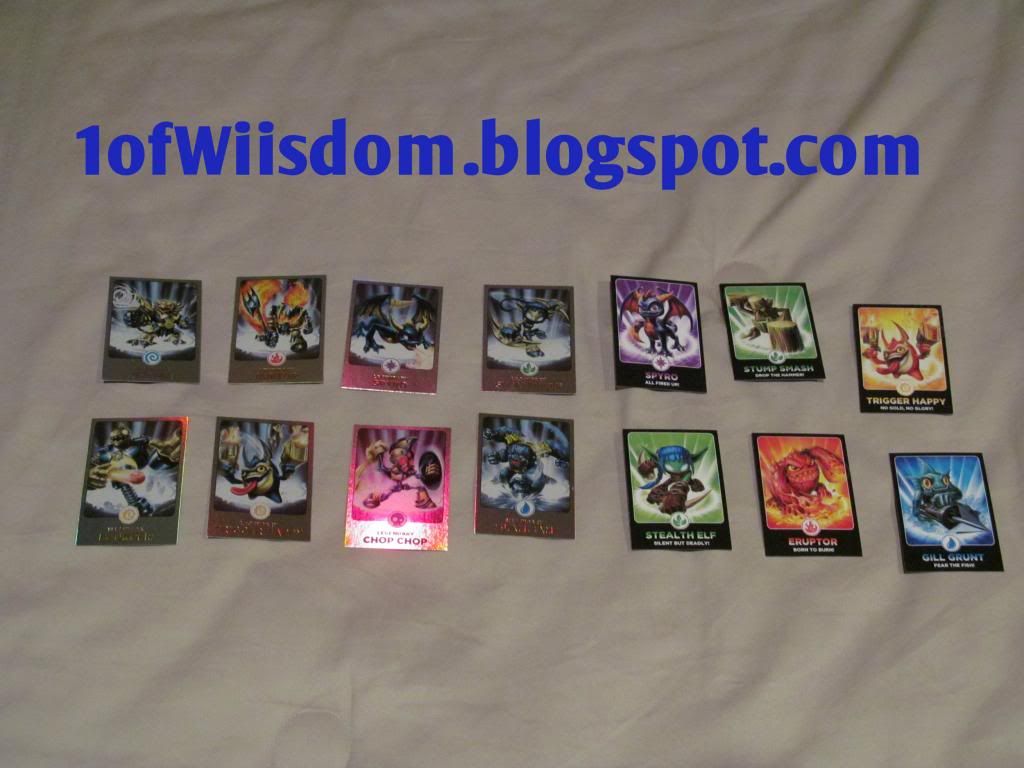 Legendary Cards
Glow in the Dark Cards
Conclusion
This really is a good deal, particularly if you plan to collect the complete set. The albums, while I wish they were standard size (3x3) and could house the entire set, are nice and feature the checklist. The price isn't too bad considering you get 19 Cards and an Album for just a few bucks more than a Jumbo Pack.