Well ahoy mateys!
Not really, but I am entitled to type junk like that when it is 3:17 AM...this is when I am usually recording and that tends to peak my awareness.
Anyway, I just wanted to give everyone a heads up that you can pre-order Shroomboom's LightCore from TRU.com. Want proof? Here is the link:
http://www.toysrus.com/product/index.jsp?productId=16403256&sku=14309973
I meant to post that BEFORE all the unboxing uploads from tonight, but oh well
Wave 3 Speculation and Discussion.
Anyway, it is widely rumored/believed/expected/guesstimated/thought/somewhat not fully doubted that we will see Wave 3 hit next week.
I've had several report to me that their local GameStops reported they'd have new characters in next week. And no, this is not from the sister of the guy next door who's nephew won a table tennis match in Madrid and was flown first class to Aspen and got the word from the 21 year old assistant manager on board the plane...
These reports come from real people just like myself who have no reason to lie and who are well known in their own GameStop store to not be fed lies, or believe about mythical indiglo cotton-esque Landskyers.
So, take what you will, but that is the word on the street.
Hot on topic is who and what we will see in Wave 3...
What we know for sure is:
-Scorpion Striker Battle Pack featuring S2 Zap and Hot Dog (GameStop Exclusive for 1 month)
-LightCore Shroomboom
What is expected:
-S2 Eruptor
-S2 Prism Break
-S2 Stealth Elf
-S2 Cynder
-S2 Lightning Rod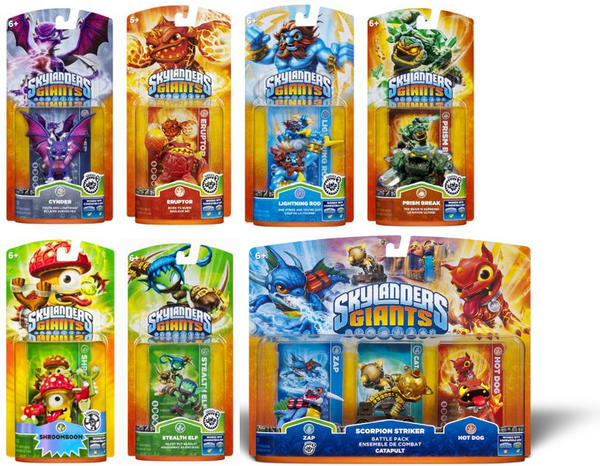 What is unknown:
-S2 Drobot
-Giant
S2 Drobot make sense to hit since he is in the same LC group with Prism Break and Eruptor, that said, they could hold him out. We also seem to be backlogged on the the Magic Element, but I suppose they could backload them into Wave 4 and Wave 5.
The Giant for this run is widely expected to be Thumpback. We really have no way of knowing, but he makes sense. I'm still miffed Eye Brawl was not released before Halloween though...I still think Swarm and Ninjini should have been the spring releases, oh well.
Again, about all that is certain is the Battle Pack and LC Shroomboom. That said, I've seen 2 people purchase S2 Prism Break and Eruptor...both are in the US and in California.
Anyhow, Wave 3 has to hit sometime and I am not one to post meaningless or speculative info...As best I know this is as good as anyone's guess out there...
Special Thanks
Thanks to @pbacchi on Twitter for the above picture and Victoria on Facebook for some insights as well as a few "unnnamed" sources!
Conclusion
I am actually NOT going to pre-order Shroomboom's LightCore. First off, I pre-ordered it eons (no pun intended) before the game even came out only to have TRU cancel my pre-order. Second, they shipped me incorrect LightCores on the only segment they didn't cancel. Third, there is currently not a sale. Fourth, I have really yet to see anything other than the initial few weeks (and Hot Head) that have been a pain to track down. Fifth, a triple pack has to launch at some point...right? And lastly, I am thrifty...there have been killer sales (most notably BOGO) almost every other week at TRU. I would much rather pick up LC Shroomboom and land S2 Lightning Rod at half price than pay full price for both...There are a ton of reposes and variations in this game and it is very expensive.
Stay thrifty my friends!
1ofWiisdom