Wednesday, November 20th, 2013 will go down as a good day for Skylanders!
Earlier today the Frito-Lay Promo for "Pumpkin," or Halloween Fright Rider as I called him, came to an end as the goods were delivered! Here is the video I shot after work this evening:
First Look at Frito-Lay's Fright Rider (FLFR)
I was able to make this post on the fly before getting home to do the video...This is where I linked to the pic from my Twitter feed. Any time something pops up like this you can find the quickest updates via Twitter. If you aren't on Twitter and can't Follow Me, simply come to the blog and check the right hand side bar...you'll get to see my latest Tweets that way!
#/1ofWiisdom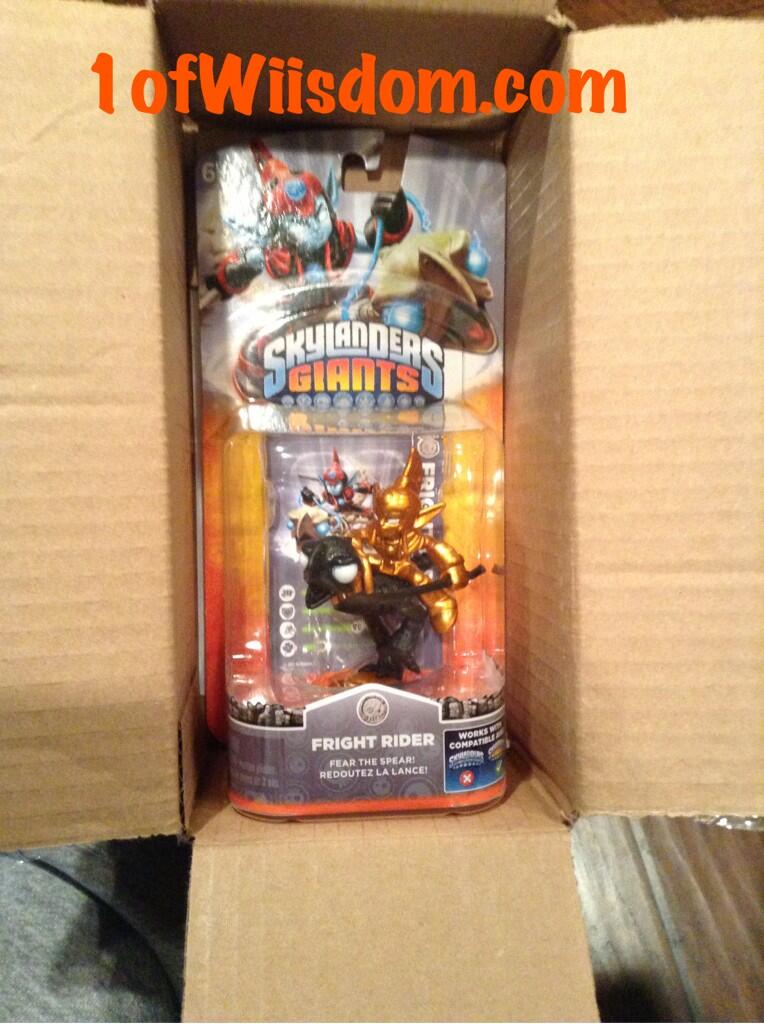 He looks cool, but the color on Rider is certainly not "orange" as the pictures and promotional artwork led everyone to believe, it is actually more of a "copper" or "gold" like we saw on E3 Hot Dog.
That said, he does look pretty cool, so I can't complain too much. I once again have to thank Tim out in California for hooking me up with a code for FLFR (Frito-Lay Fright Rider). It was that night I finally found the promo bags at Toys'R'Us and as best I know my local stores never had any stock.
What are your thoughts? Do you like this color scheme? Would you have rather had it be the "as presented" orange and black? Feel free to sound off in the comments and VOTE in the blog poll!
Frito-Lay Fright Rider, Front Side
Frito-Lay Fright Rider, Backside
Frito-Lay Fright Rider:
Left: Spear Parallel, Right: Spear Angled Down
FLFR, My 2nd Fright Rider for the Joust Jockey Path, and FLFR
2 FLFRs, Fright Rider (Sealed), and Fright Rider (Opened)
Again, personally I think I would have preferred a true ORANGE on Rider, but despite me always talking about not liking gold that much, it looks pretty slick here, especially with the contrast provided by the black on Fright. The white eyes really get emphasized on both Fright and Rider in this color scheme.
As best I know all the figures shipped Thursday, November 14th, 2013 so if you don't already have your FLFR he should be showing up very soon. Just look for the slim box as seen in the video. Again, props to Frito-Lay for at least shipping decently. This promo was fine, aside from the lack of promo bags in many regions. Regardless, it remains far superior to the debacle that is the QDRS Promo.
For more information on this promotion, check out these previous posts:
Frito-Lay Spearheads Halloween with Special Orange and Black Fright Rider
https://www.1ofwiisdom.com/2013/09/frito-lay-spearheads-halloween-with.html
Checking Out Frito-Lay's Halloween Fright Rider Promotion:
https://www.1ofwiisdom.com/2013/10/checking-out-frito-lays-halloween.html