Well, tomorrow is the big day...or when you cut the puppet-strings, I suppose your fate is in your own hands there.
We all know that Toys'R'Us and Activision/Toys for Bob teamed up for several exclusives and now, thanks in part to TRU holding back stock for the last few weeks, they are advertising a massive Skylanders event.
I earlier speculated that we would see Lightning Rod and Zook in single pack form, and that seems to be correct. Someone in Austrailia, where it is already well into the 3/21 day posted up what they found at a local store (not Toys'R'Us), note the $14.95 price tag as well: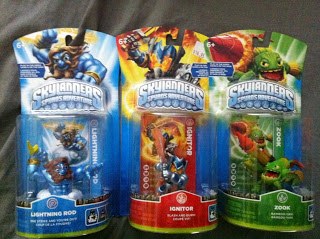 It looks like Ignitor will be hitting the shelves as well, much ahead of the speculated release date...don't be surprised if the Triple Pack isn't out for a long time though.
A few sources I check online have said that everything they have will be single packs...which I had earlier suggested as a likely outcome since that maximizes the money. One poster on darkspyro, who has a cousin that works at TRU, said that there would be roughly 10 Lightning Rods and 10 Zooks at each store.
Yeah, way to really ramp up that production folks....
Most stores are saying that it will be a ticket event and you can get 1 ITEM. That basically means if you want Lightning Rod and Zook you better have another person with you or one heck of a disguise. Some stores have 2 Per Customer, others have something entirely different. My local store is 1 Per Customer.
I can not confirm if each store will only have 10 Skylanders ,but if that is the case you had better be in line early if that is your goal.
If all of this sounds like too much hype and you can't help but feel like you are on the end of a puppet string of a poorly run corporation that just can't seem to crank out enough of their product to satisfy demand, you might just sit this one out.
There is now also mixed feedback on Dragon's Peak.
Some have been told by TRU managers (remember, it is a TRU Exclusive for 30 Days) it will be sold 3/25, while others have heard it will be out tomorrow. One solid source, said some stores have them and some don't...those that do will put them out.
Blue Bash, who was speculated to be released April 8th, has now been moved up to April 1st, which I have to say is fitting.
I have got a horrible sore throat, and it is forecast to be cold and raining in the morning. Oh, did I ever mention I have a job? You know that thing people do for around 8 hours every day to earn money and purchase food/shelter to survive? Yeah, that might kind of be an issue too.
With so much mixed information, I'm not sure if I'll mess with it. If I felt better, I would try to get away...if there is a line out the door you can kiss my *** Nothing is worth standing outside a store to go in and buy...nothing!
I probably have different standards than most people, but I abide by them.
So, I honestly think you will see:
-Lightning Rod Single Pack
-Zook Single Pack
I think you have a chance to see:
-Ignitor Single Pack
-Dragon's Peak Adventure Pack
I do not think you will see the Lightning Rod, Zook, Cynder Triple Pack...which is honestly what I may hold out for just to say a few dollars.
If you do not see Dragon's Peak at your store, try March 25th.
I would expect Blue Bash on April Fools Day or April 8th, but personally I'd bank on April Fools Day.
Not only will regular folks be out trying to get in early, but the scalpers have probably already called in relatives they haven't spoken to in 12 years. A Lightning Rod is currently on ebay for about $75. What a joke.
The more I type, the better Paper Mario is starting to sound...
So, with that now you know what you might can expect? Confused? You should be...it is part of the hype/hysteria that prompts people to pay $75 for something that retails for $10. The only way you'll know if you can get Dragon's Peak, or just stare at Wave 2 Skylanders you've had for months is to go to TRU.
Here is some incentive, if you get lucky locally you don't have to consider this:
http://www.ebay.com/sch/yoitzken/m.html?_nkw=&_armrs=1&_from=&_ipg=&_trksid=p3686
If I go I'll let you know what I find locally...Feel free to chime in with your general area and what you got, or what you just missed out on adding to the collection.
I think if the sore throat wasn't an issue I'd be a bit more optimistic about driving to TRU and filming people standing in a winding line, outside in the rain...and you better believe that would go up on YouTube.
I can't help but feel there are very few of us that are actual players, or just really dedicated to our kids that are getting in on this stuff...I feel like it is primarily people looking to buy cheap and flip high. I've said it time after time, the only way to stop them is to not buy what they've got. DO NOT PAY MORE THAN RETAIL FOR ANY SKYLANDER, OR ANYTHING AT THAT RATE.
Well, I'm going to go enjoy a game that had a one time purchase price and let's me control the characters....
Hope everyone gets what they are after tomorrow!