Well, tonight was a good night! I made the rounds once more with my 3DS looking for Street Pass Tags and got....
Nothing! Can't say I'm shocked, apparently there aren't a lot of super cool people roaming the streets with their 3DS just yet...
But, nonetheless it was still a great night.
First up was Target: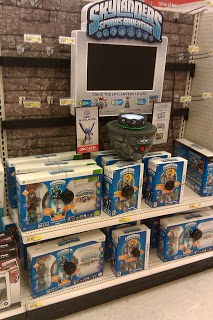 Nothing but the starter packs...again! I asked an employee who had previously checked the back for me and their response was they haven't had anything come in for weeks. Given the fact not long ago they actually went in the back to look for Empire of Ice I have no reason to doubt their testimony.
Up next, Toys'R'Us: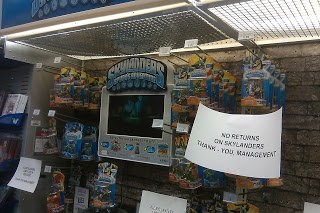 Can you see that? Wrecking Ball, Hex, Chop Chop, Eruptor, Boomer, Legendary Trigger Happy, Zap. A nice selection.
WAIT! WHAT? LEGENDARY TRIGGER HAPPY??!!
You better believe it! I must have caught them just after an afternoon stock or something...Last week they didn't have any. I was stoked, they had quite a few too. I wanted one for a friend, but with the "one per customer" deal I had to take one and call it good. As much as that is annoying, I have to say...if the policy wasn't enforced I would probably have seen a shelf with Wrecking Ball and Boomer.
I didn't expect LTH to show up here this soon...I knew of a few Canadians and 2-3 in the northeast that had him, but that was it. Ebay, as of 2 days ago, was listing him for $200+. I paid $9.99 and encourage you to do the same.
I was going to pick up another Pirate Seas (to have Terrafin to go with his other upgrade path), but they didn't have any.
My logic behind paying the extra $5...TRU has a not very well advertised sale that was going on where if you buy an Adventure Pack you get 2 Triple Packs...for FREE! That is a heck of a deal and well worth the $24.99. Sadly, in addition to not having any Adventure Packs there were also no Triple Packs...go figure.
Nonetheless I can not complain. Legendary Trigger Happy is now in my collection and ready to play!
I don't think I'll unbox him until I have been able to land another one or see that there will be a huge number on the market. It is that collector side of me coming out again. Plus, I can play him via the Portal from the confines of the mint-condition package...win-win!
I did check GameStop, but they had like 3 Starter Packs. I was about to head into the Walmart that gets hit with petty vandals stealing Prism Break and Drobot, but opted against it. It was windy here, but also hot....like mid 70s. I didn't want my groceries to thaw out, lol.
But hey, all in all a great night. Legendary Trigger Happy doesn't look like the same bold paint that the Legendary 3 Pack had, but maybe it is the packaging. Regardless I am happy and relieved that I was able to snag him locally and will sleep easy anxiously awaiting the next round of releases!
Oh, and you might enjoy this: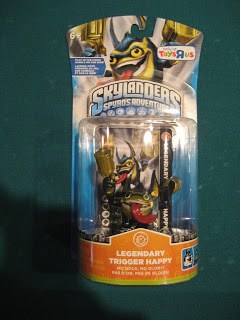 BOOM!