Well another week and another stock update. Let me start by saying I once again traversed the streets with my 3DS on hoping for some Street Pass Tags, particularly from a yellow-shirted Mii, but came up empty once more. I am really starting to think I'm the only person cool enough to drive around town looking for Skylanders with a 3DS on...
***
I also feel like I need to address something else as it repeatedly comes in messages to me...
I am not, nor have I ever been "sponsored" by Activision. If that was the case I wouldn't gripe about the Weapon Master glitch like I did, complain of poor stock management/manipulating interest, and I sure wouldn't make allegations they engaged in deceptive trade practices and misrepresented their products when it comes to Whirlwind and Drill Sergeant Single Packs.
And I would hope they would ship me new Skylanders right before release. Have you read how I still haven't seen Empire of Ice or Cynder at a local store? That's right, I actually go out and buy these...I just got into the game right at the release and have gotten lucky tracking down Wave 3.
That said, if Activision reads this and somehow isn't scared off by my first set of points, I would gladly accept info on Giants and Skylanders just before their release date to showcase them to Skylander fans.
The chances of that happening are about as good as not getting bumped off the track in Rainbow Road...
***
Anyway, back to the issue at hand. First up was Target...
Before you see the picture let me say, I was shocked to see any on the shelf too! Sometimes this store stocks late (ie not 8-9 AM when only ravenous ebay raiders can ransack the shelves) and I'll see something cool: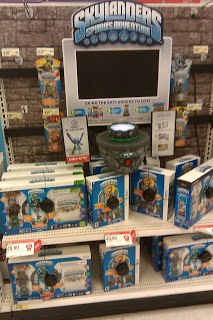 Yep, (2) Boomers, Eruptor, and Hex...haven't seen her around in awhile. As I type this I know realize that Jon (octaneblue) needed 2 of them, lol...if you have trouble finding them locally let me know and I'll see if they are still in place.
But, we are not done. Daphney requested a close-up of the Whirlwind sign with the "Only at Target" below it for use on a Spyro Wiki site. I will say it took my phone 4 attempts to take AND SAVE the picture, but I got it...Only about 12-15 people went by staring at me like I was crazy: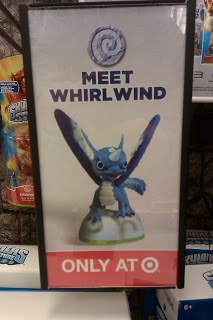 Next up was Toys'R'Us...they had NOTHING. I mean NOTHING. Not a single, not a triple, just the hand made signs. My theory is that on March 21st, 2012 the Mayan Prophecy will ring true...oh wait, that is December. Anyway, there have been reports from across the US that 3-21 will be the next stocking point for TRU. My hypothesis is that not only will early Skylanders reappear, but I predict we will see Dragon's Peak, Lightning Rod, and Zook.
If anything is missing 10:1 it will be Triple Pack G (Cynder, Lightning Rod, and Zook). Why do I think this? MONEY! If that Triple Pack is out on 3/21 people that want Lightning Rod and Zook probably wouldn't hesitate to buy it and have an extra Cynder to trade/sell/go on a different upgrade path. Furthermore, keep in mind a ton of people still don't have Cynder. The triple pack would cut into profits. By just keeping singles of Cynder, Lightning Rod, and Zook they will make $30 as opposed to $25, and they clearly need the cash...
Again, that is all just me speculating, but I wouldn't be shocked.
I would, however, be shocked if Dragon's Peak wasn't in stock for the full 30 days...If you read the blog regularly you will know that TRU has a 30 Day window to be the only retailer to sell Dragon's Peak. APs go for $19.99 everywhere but TRU. I figure they will cash in on this big time...selling out in 2-3 days and then getting 5-6 of them in every week would be completely pointless...I am sure TRU mandated that they have "X" quantity on hand, which is why you see stores holding back stock...they'll use the launch of Dragon's Peak to put out a nice array of Skylanders.
If that isn't the case, I will simply wait till day 31 and save $5.
But hey, griping aside, Toys'R'Us did have these: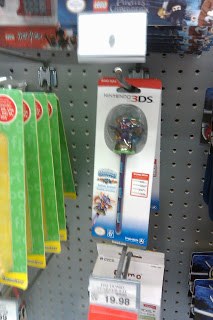 Yep, that blurry, un-priced, cell-phone pic is the highly-touted, seldom known Skylanders Stylus...which is kind of funny since you don't really even need the stylus for the 3DS version (ie you don't use it often as you do with say Mario Party DS or something similar).
At my TRU they are kept with the DS cases and other stylus sets, not with the Skylanders display as I have seen others report. They currently have Spyro, Gill Grunt, and Chop Chop. I was going to get a Spyro and Chop Chop (Gill Grunt doesn't look too good in stylus form), but when I went to checkout and saw they were $11.99 each I said forget it...I just took home Chop Chop. My logic is that I have wanted a "big" stylus for awhile, and despite the price it is pretty cool. I think I will finally be able to draw/write a little better with Chop Chop bobbling atop the long stylus. My hands are fairly large so the "stock" stylus leaves a bit to be desired for actually writing.
I would have gotten a Mario one long ago, but all they have anymore are the "Baby Mario" ones and I'd prefer something else....I remember a few years ago there were some sweet styluses out there...oh well.
But yeah, you read right $12 for a stylus. I think $12 for the set of three would have been a fair price, or $5 for a single. Still, I will now be able to comfortably write and Chop Chop will be there with me, lol. Should this one wear out I'll hope some cool Mario ones are readily available next time I'm in need.
When I ran to GameStop I was told they hadn't had a single shipment in 4 weeks...maybe that is why GameStop.com has stock, lol.
As a bonus run and an attempt to get Empire of Ice, I hit up Walmart. They had...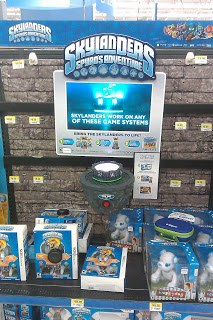 Nothing! Well, aside from a few Starter Packs. The tags up top were for a 3 Pack and Pirate Seas, no mention of Empire of Ice despite people telling me they had a tab for it...oh well.
So I am kind of anticipating a dull adventure next time, but I suppose 3/21-22 should be exciting. Again, I truly believe Dragon's Peak is going to be out and out in full force.
I also recorded a video on Legendary Trigger Happy and went over the stats comparing him to Trigger Happy. I think it'll work and hopefully the people that don't read the blog will then know I have LTH, which is another question that pops up quite frequently.
Well that is it for now. I'll get the LTH video up soon...I also shot one of the Chop Chop stylus, but I'm not sure it is worth posting....guess I"ll sleep on it.
My voice is finally back, so if I get time I will work towards wrapping up the Time Goals this weekend.
Hope everyone is having a good week and feel free to chime in with your take on "3/21" and what your local stores have or more likely don't have.
1ofWiisdom