This is something I had wanted to do for a long time...the frame just held me up.
You can create this same combo for under $15:
-Skylanders Poster at Wal-Mart: $4.99
-22 3/4" x 34" Poster Frame at Target: $8.99
The poster is NOT 24"x36" like you might think, and that frame will need a mat to look right...the best thing to do is buy the correct sized frame.
The poster looks awesome and any Skylanders fan will be happy to have it on their wall.
Here is a nice shot: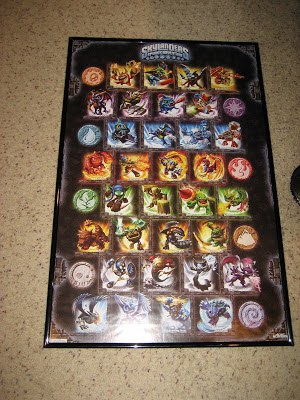 As you can see, it is hard to get a good shot of the poster when framed due to the glare. That is why in the video (which would have featured 2-3 glare spots from lighting), I went ahead and filmed dark. I think it still gives you an idea what the poster looks like and is far less objectionable than having the glares chronically popping up:
Like I said, this is EASY to find, the price is right, and you *currently* don't have to deal with scalpers snatching up what little stock there is and then marking it up x% etc.
The video and picture really don't do justice to how nice the poster looks when framed!
Oh, and I threw the Chop Chop Bobble Head Stylus in for good measure!
1ofWiisdom